Pop-ups have gotten a bad reputation. Sites using pop-ups to build their email list could potentially suffer from higher bounce rates (people leaving their site quickly) or the wrath of Google, which has publicly stated that pages with certain types of pop-ups can be subject to lower rankings in search results.
But despite all of the potential downside, pop-ups, when they are used strategically, can be amazingly effective at building your email list and converting website visitors into buyers.
You caught the caveat above, right? If you're going to be using pop-ups, you absolutely must be strategic about it. Because when someone's visiting your website, and you want them to join your list, the last thing you want to do is alienate them. But you don't want people joining your list who are not likely to want to hear from you either. So here are a few pointers on how to be more effective and less annoying using pop-ups on your website:
Dramatically increase your opt-in rate!
It is completely realistic to expect that a pop-up on your site will increase opt-ins to your email list over a static form. In fact, there have been a ton of split tests and studies on the topic, showing increases ranging from around 30 percent all the way up to 100% or more.
There have even been reports of 1000% increases. Of course, those kinds of results are certainly not typical.
But if you're in the market for a more realistic increase in your opt-ins, it's totally possible to get as much as twice as many new subscribers as you are now. And with GROW, it's incredibly easy to incorporate pop-ups into just about any email service provider out there.
How to create a pop-up with GROW
Creating pop-ups is just one of the many engagement and conversion activities you'll find inside of GROW.
Don't have a GROW account yet? Try it out FREE here!
To create a pop-up, log into your account, and head on over to the "Engage" module. Once there you'll have the option to browse through over one hundred different pre-designed templates or create your own from scratch.
If you don't see exactly what you are after among the templates, don't worry… you have complete control over customizing just about everything. So just think of the template as a good starting point for you.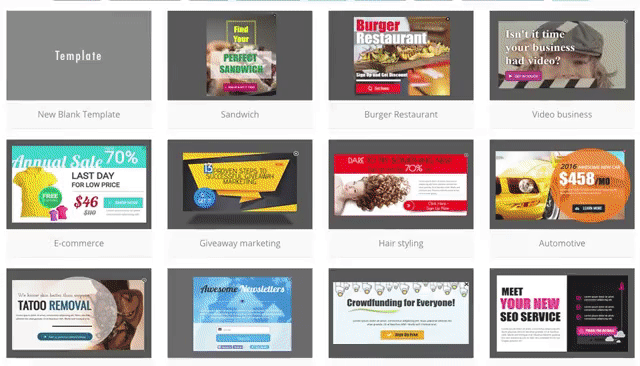 Once you've found the template you want to use, you can jump inside the editor and start customizing it to your heart's content.
And there sure is a LOT of customization you can do, including changing colors, images, fonts, adding your logo, inserting a video background, changing the pop-up's shape and size, adding animations, and a TON more. But you don't need a tutorial on how to use GROW right now… this is about how to use it (or any other type of pop-up) effectively.
Which brings me to…
The real reason why so many websites avoid using pop-ups
Okay, we know that awesome looking pop-ups are really easy to create using GROW, so why isn't everyone using them?
Well, one big reason is that there's a big concern among website owners that they don't want to "annoy" their visitors. Maybe they think pop-ups are too "pushy" or "spammy." So, instead of proactively building their email lists or using pop-ups to skillfully guide site visitors toward making informed buying decisions, they do nothing.
Maybe they are just hoping that people will figure out where to go and what to do on their own. But here's an insider tip: winning websites are most effective when visitors are told exactly what to do and where to go.
And pop-ups can play a big part in giving direction to a visitor or engaging them or incentivising them to learn more about how you and your business can help them solve a problem. And the following types of pop-ups are a great way to accomplish one or more of those things and keep your site visitors happy at the same time.
Timing is everything
What do most people find annoying about pop-ups? They are seen as interruptions. They show up almost instantly when a page loads. In fact, they appear so fast that the visitor hasn't had the opportunity to become invested in the site or its content. That just turns people off. It's in-your-face and pushy… and it could also be a warning to visitors who might think "If this is how these guys market on their website, I can only imagine how obnoxious their emails are going to be. No thank you!"
But there's an easy fix. Delay the load time of your pop-up, so it doesn't appear when people first land on the page.
With GROW, you can easily set the timing, frequency, and a lot more:
Setting the timing to somewhere between 10 and 20 seconds means that people will have probably spent enough time on the page to demonstrate that they are interested in the content, and your pop-up offer will be that much more appreciated. Of course, that may still feel a little too pushy for some, so here's another idea:
Don't show your pop-ups everywhere
This might seem counterintuitive, but you may not want your pop-ups to appear on every page of your site. If someone is browsing through your website, and loading one page after another, they probably don't want to have a pop-up greet them on each new page. In fact, that's a pretty easy way to get them to leave and never come back.
But if you are selective about showing pop-ups on some pages and not others… or limiting the pop-up to the first page someone loads (and not subsequent pages), it will make for a much nicer experience.
GROW allows you to set intervals (in days) between showing a pop-up. It also allows you to define specific pages to include or exclude from a given pop-up campaign.
The ability to customize where pop-ups are seen can also help you target the offer on your pop-up to specific content, allowing you to customize things even further. So if someone is reading a blog post on a specific topic, you can offer a related free giveaway that's likely to entice more people to join your email list than a generic giveaway might.
Get the timing just right
Not all pop-ups actually need to load based on the timing of a page load. In fact, maybe you don't want people to see a pop-up until they've reached a certain bit of content on your page. This is where a scroll triggered pop-up makes the most sense.
Here's how it works: as visitors scroll down, reading your content, an idea or piece of information might be presented to them that will have them thinking something like "I totally agree" or "Hmmm, great point, I wonder where I can learn more about that." And, guess what… this is the perfect opportunity for you to display your pop-up.
This works amazingly well because the pop-up is only shown to people who have clearly demonstrated an interest in what you have to offer because they've already invested a good amount of time and energy consuming your page content.
All you need to do to make this work is to determine how far down the page it makes sense show you pop-up, and format the call-to-action on your pop-up to be a logical next step based on what they would have just read a moment earlier.
Once again, this is super-simple to set up using GROW. All you do is select to show the pop-up "when scrolling," and then enter the percentage of the page where your pop-up should be displayed.
Here's an example of how I use it on one of my articles about website conversions. In this case, visitors have been reading about principles behind effective conversions, and just learned how we've incorporated these ideas into our software. They are then presented with an offer to try out the software for free. The offer gracefully slides in from the top, off to the side of the page, without blocking the text they are reading or interrupting their experience.
And here's one more thought to help you create more effective, less annoying pop-ups…
Make sure your content matters
Content isn't limited to blog posts or articles on the pages of your website. Pop-ups also include content.
And nothing can be more annoying than a pop-up which serves no other purpose than to promote or advertise something. Think about how annoying television commercials can be (assuming you still watch live television).
Pop-ups work best when they add value to the visitor's experience. And "value" can take many forms. Perhaps it's a free download related to the content on the page or a discount coupon or a webinar registration… but don't make it too generic. The point is to offer content that's worth the interruption.
Now that you know it's time to GROW
Hopefully, you now have a somewhat better impression of the power of the pop-up. And if you already have them working for you on your website, try making a few adjustments along the lines of what I've shared here in an effort to increase those opt-ins.
Of course, if you're not yet using pop-ups, this is the perfect opportunity to take GROW for a test drive.